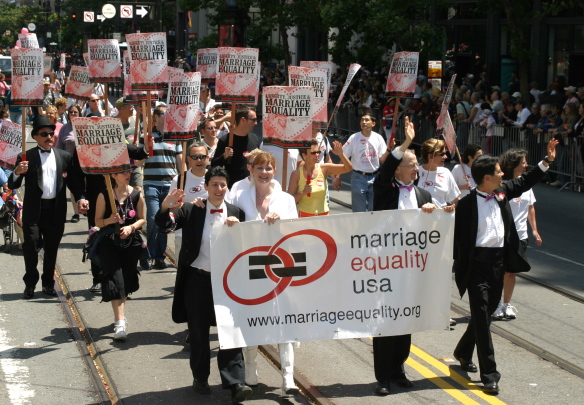 On
National Freedom to Marry Day, Thursday, February 12, 2009
, at local marriage counters in cities all over the country, same-sex couples will request marriage licenses at their local County Clerk's Offices to raise awareness of the harms and impact that the inability to marry causes on their families. This national event is hosted yearly by Marriage Equality USA (MEUSA) and this year they have asked Join the Impact for our help to make this their largest Marriage Counter Action yet!
"
Marriage Equality USA
started the Marriage Counter Action/Get Engaged for Marriage Equality in 2001. This year, we invited Join the Impact to join us, and we are very excited to be working with them and look forward to a large turnout. We do this annual direct action during Freedom to Marry week to make marriage discrimination visible, it forces our local clerks to have to look us in the eye, see our children, and enforce a discriminatory and unjust law at their counter – it moves everyone who witnesses this sad, but powerful event and gives us the opportunity to tell our stories and show that we live in every community and want to honor and protect our families like everyone else." - Jordan Palmer, Vice President of Development & Organizational Relationships for Marriage Equality USA.